Holiday Package

Your discoveries by mountain bike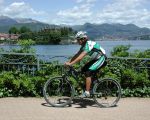 Participation is recommended for those people ready for sport activities of average-high levels; though all routes are well indicated and not dangerous, we have to consider the distance to be covered and the road surface, uncomfortable at intervals and sometimes presenting considerable inclinations.
1st day: arrival at Lake Maggiore, hotel check-in, meeting with the tour leader and short briefing for the presentation of the programme. Then dinner and overnight.
2nd day: after breakfast departure for the excursion between Vergante and Mottarone with visit of Gignese and Coiromonte
distance: ca. 50 km
cycling tourist time: 8 hours
average tourist time: 6,5 hours
athletic tour time: 5 hours
top inclination: 20%
At 7.00 p.m. meeting at the jetty in Stresa and boat transfer to Isola Pescatori, for a very good fish dinner menu in a restaurant of the isle.
3rd day: after breakfast, car transfer to Piancavallo, where the itinerary "Punta Morissolo to Pian Vada" will start, visit of the Linea Cadorna and Punta Morissolo: galleries and trenches excavated in the rocks. An incomparable sight on Lake Maggiore, Folungo Pass and the den at Pian Vadà
distance: ca. 40 km
cycling tourist time: 6 hours
average tourist time: 4,5 hours
athletic tour time: 3,5 hours
top inclination: 20%
4th day: last day dedicated to bike activities: " The V High Vergante Path", during the tour some stops will be planned in: Cassano, Invoria and Vergante, Massino Visconti.
distance: ca. 50 km (80 if starting point is Stresa), 35 km on country roads
cycling tourist time: 7 hours
average tourist time: 5 hours
athletic tour time: 3,5 hours
top inclination: 18%
5th day: breakfast and departure

Included services
3 Half Board + 1 BB in a good 3* hotel at Lake Maggiore
1 dinner at Isola Pescatori, including transfer by motorboat
3 days with a cycling guide + welcome briefing
Amitour tourist insurance
mineral salts, drinks and snacks during the excursions; mineral salts, drinks and fruits buffet at afternoon return
possibility to arrange massages (to be paid directly)
garage where to keep bikes at nights
Optional services
Dinners and overnights in mountain shelter, lunches
Price
478,00 € per person in double room
Length 5 days
Min. participants 6 people
Period
From April to October